Growing up, Jim was not the biggest or strongest kid on the block. At 5'11", 135 pounds, he was often seen as being too skinny by many of his classmates. Sure, he was scrawny. But in his junior year of high school, his brother introduced him to weightlifting. And that's where his story changes.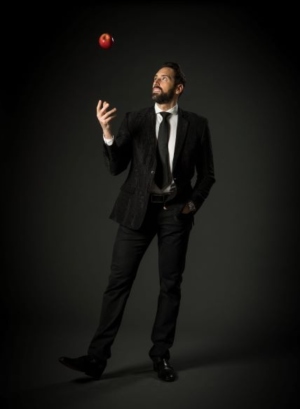 HE MUSCLED HIS WAY TO HIS LIFE'S MISSION
Jim's dedication and persistence in the weight room helped him go from a 135-pound "weakling" to 195-pounds of solid muscle. He not only saw changes in his body, but he began seeing changes in other areas of his life: his energy levels skyrocketed, confidence soared, and motivation level remained high.
Jim soon learned that leading a healthy lifestyle doesn't only improve one's body and health, but it can also have a positive influence on many areas of one's life. This realization led him to develop his lifelong mission: "Inspire others to have healthier and more fulfilling lives, which can be achieved through the proper exercise and nutrition."
HE MOTIVATED HIMSELF AND NOW HE MOTIVATES OTHERS
Jim White graduated with a Bachelor's degree in Dietetics from Youngstown State University and moved to Virginia Beach with only $400 in his pocket. He was passionate about his desire to help people get healthier and has turned that into a very successful business. Jim White Fitness & Nutrition Studios are popular places to get really, truly fit. He reaches out to area employees through Jim White's Workplace Wellness program.
Always one to give back, he founded the LIFT Fitness Foundation. He's also written a popular jumpstart fitness plan, has won many awards, holds advisory positions and is a contributor to national media outlets. And he's just getting started.
ACCOMPLISHMENTS, AWARDS & ACCOLADES
Owner of Jim White Fitness & Nutrition Studios
Owner of Jim White's Workplace Wellness
Owner Jim White's Medical Nutrition Therapy
Founder of LIFT Fitness Foundation
Former Academy of Nutrition and Dietetics and American College of Sports Medicine Spokesman
Former Men's Fitness Advisory Board
Former Oxygen Fitness Advisory Board
Former Monthly contributor for RadioMD
Regional Board of Directors member for the National Strength and Conditioning Association
2019 Academy of Nutrition and Dietetics Media Excellence Award
2016 Personal Fitness Professional (PFP) Personal Trainer of the Year
2015 Youngstown State University Alumni Award
2014 Academy of Nutrition and Dietetics Consultation and Business Practice Award
2014 Young Entrepreneur Award
2013 Entrepreneur Excellence Award
2012 Health Care Hero Award
Academy of Nutrition and Dietetics Consultation and Business Practice Award
Voted one of the Top 40 Businessmen Under 40 in the Hampton Roads region
2009 Virginia's Young Dietitian of the Year
Featured in Shape, GQ, Men's Health, Muscle and Fitness, Prevention, USA Today, Details, Wall Street Journal, Washington Post, New York times, Men's Fitness, Time, Women's Health, and more
Featured on ABC Family Channel, Today, TLC, Radio Disney, Huffington Post Live, CBN, TBN,
and more
2005 Opened JWFNS Shore Drive
2006 Opened JWFNS Hilltop
2008 Moved JWFNS Shore Drive to Great Neck
2010 Expanded JWFNS Hilltop
2010 Founded LIFT Fitness Foundation
2020 Opened JWFNS Virginia Beach
2012 Started Jim White-Approved Restaurant Program
2013 Started Jim White Workplace Wellness
2014 Opened JWFNS Norfolk
2015 Launched JW Medical Nutrition Therapy